Kayo Mpoyi
Words by: Kayo Mpoyi
Published on: 17 November, 2022
How do you relate to your family/kinship archive: photographs, films, audio collections, memories, oral histories?
For me it is a treasure. It is something we must collect, preserve and talk about to spread our stories. I have struggled for a long time with and against the idea that we lack history. It's an idea that comes from the displacement and absence of Black and African voices in the history we hear every day.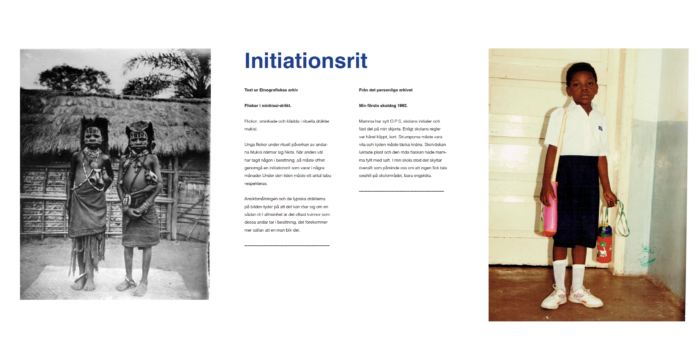 You have shared with us a visual material that is connected to your family. Why this particular material?
I work a lot with archives in my artistic practice, both in writing and visually. My second novel is derived from the photographs I found in my mother's photo album. I have also worked with private as well as national archives, such as The Museum of Ethnography. In the national archive, there are pieces of our history but that archive is disconnected from us. In the national archive, the objects and people have lost their names. In my personal archive, I know the names in the photographs and I can tell several stories about what I see. However, large pieces of history are missing. In my visual work, in addition to juxtaposing these two archives next to each other, I have worked on creating a third fictional archive that allows me to process and respond to the silences and wounds created by history.
What does the (black) archive mean to you?
The archive becomes a source of knowledge, a place of healing, and a new language. A language for how we deal with history and how we cement our presence in future stories.
About Kayo:
Kayo Mpoyi, born in 1986, is a Swedish artist and writer. Kayo was born in Zaire and came to Sweden as a ten-year-old. Kayo received the Catapult Prize 2019 for the debut novel Mai means water, a childhood portrayal set in Congolese exile environments in Dar-es-Salaam, Tanzania.