Diana Agunbiade-Kolawole
Black Archives Sweden has spoken to the artist Diana Agunbiade-Kolawole about her work and relation to family archives.
Words by: Diana Agunbiade-Kolawole
Published on: 16 June, 2022
How do you work with (relate to) your family archive: photographs, films, sound collections, memories, oral histories?
The idea of family and also what has now become the family archive has a more dramatic and sentimental feeling for me now. Last year I lost my mother which inevitably made me an orphan. This year my maternal aunt died, therefore everything feels so much more precious. I have lived away from my family for some years now, however I speak to them most days if not daily. Hence things like phone logs and text messages became my/our joint family archive.
Some years before my maternal grandmother died my aunt video recorded her recalling her life history and the significant things she wanted to share, which is a comfort to us all. She lived a long life, making it possible to do such things. Although my father lived into his 80s, I was 26 years old at the time of his passing. I imagined back then that I would have had time to do an oral history recording of my parents, however, they died 5 years apart. My mother wrote "60 inspirational tips for a healthy & happy long life" when she turned 60 years old. I have had occasions to read from the guide book since her passing.
Also people share many stories with each other about their time with the person that has died. In a way, I can probably say that perhaps one is only activated when one is dead; no-one really shares or reminisces so much about you until you are dead. The funny stories and anecdotes that I remember are my way to feel closer to them.
The first thing I noticed when my father died was that I could not remember his voice. I have not watched any videos or recordings of him since, even though I wish I could hear it. I imagine maybe someday his voice will come back to me. With my mother I find it difficult to see images of her, that one is unbearable.
You have shared with us a visual material that is connected to your family. Why this particular material?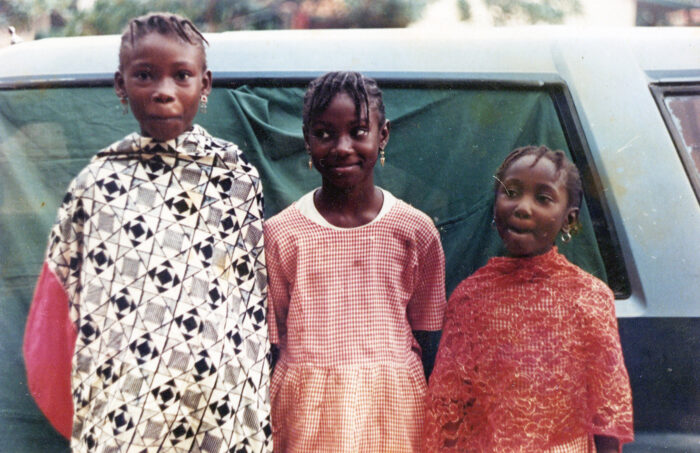 This picture is of myself and my sisters. I am in the middle. We lived in Nigeria then and my mother worked at the research hospital in Abeokuta, Ogun State whilst raising 3 kids, having a husband, an active social life, and an international career. Needless to say she was busy and sometimes tried to cut corners leading to how we ended up with such a photo. I believe we needed passport photos for something. She was short on time, and instead of picking us kids from school to take us to the photo studio, she decided to bring the photographer along with her as she picked us up from school. It was a whole commotion; we the kids were laughing and were unable to keep a straight face. The scarfs around our necks were to give the illusion that we were not in our school uniforms. The car was my mother's Toyota family car. Before that she had a 2 door sports car that became very impractical with 3 kids. I preferred the sports car and felt a loss for her when she had to give it up. I have come to appreciate her stamina and respect that she was able to have it all.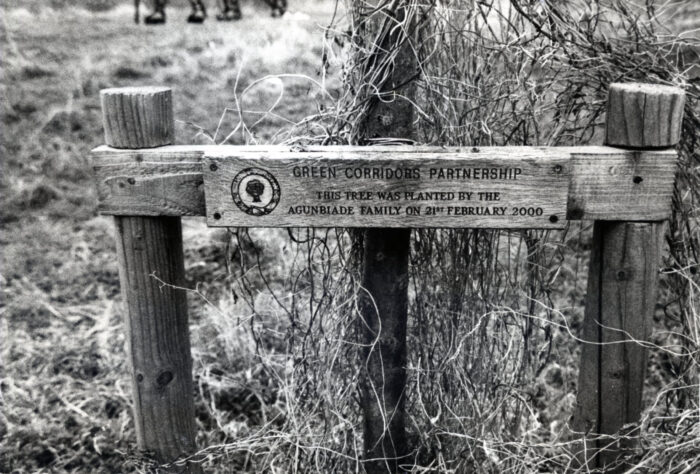 The 2nd image is a photograph showing a tree with a plaque that holds information about the tree [and its relationship to my family]. The tree was planted in Heston, a small village in West London where I grew up. I took the photograph in 2010 or 2011. I have a very strong connection to the place and it has been our family home since 1999. The physical family tree, also an archive of its own, is the starting point of my next work.
What does the (black) archive mean to you?
I understand the Black Archive as an inclusive dignifying archive for us living the Black experience. It is important that the Black archive is by Black people and takes into account formal and informal ways of recording ourselves.
About Diana:
Diana Agunbiade-Kolawole is an artist working with photography. Her work utilises both lens and non-lens based photography, and these manifest themselves in a variety of outputs such as installations, performances, prints. She has had a relationship with Sweden, specifically Stockholm since 2014.